Le Domaine de la Brèche
CONTACT AND HOW TO FIND US
Welcome to Le Domaine de la Brèche ★★★★★ campsite! With its ideal location in the heart of the beautiful Pays de la Loire region, in the department of Maine-et-Loire, our five-star campsite is happy to welcome you for an exceptional holiday in the midst of nature! Le Domaine de la Brèche can be accessed by car or public transport.
CONTACT
LE DOMAINE DE LA BRÈCHE CAMPSITE
5 impasse de la Brèche
49730 VARENNES-SUR-LOIRE
Tel: +33 (0)2 41 51 22 92
The campsite's reception is open every day from 8 am to 8 pm in high season and from 9 am to 7pm in low season.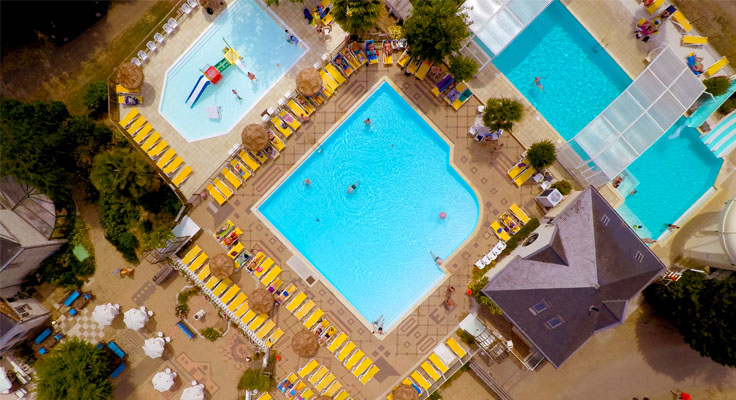 CAMPSITE ACCESS
"🛰️ GPS coordinates:
N 47° 14′ 56″" / E 0° 00′ 08″"
🚗 By car:
Via the A10 motorway towards Bordeaux/Nantes. Follow directions for Orléans on the A10/E05. Take the A85/E60 exit and then exit 5 to the D749. Take the D952 to Impasse de la Brèche in Varennes-sur-Loire: at the roundabout, take the third exit onto the D749 to Tours, then turn right onto Rue de Tours (D952). At the roundabout, take the second exit and continue on to the D952, then take a right onto Rue de la Brèche. Finally, turn left at the first junction and continue onto Impasse de la Brèche. Our campsite is on the left.
✈️ By plane:
The nearest airport is Tours – Val de Loire. It's 70 km from the campsite.
🚇 By train:
The nearest railway station is Saumur Rive-Droite. It is located 7 km from the Domaine de la Brèche campsite."
DISCOVER THE RENTAL ACCOMMODATION AT LE DOMAINE DE LA BRÈCHE CAMPSITE